This year's Volunteer Day got great coverage in the Concord Monitor!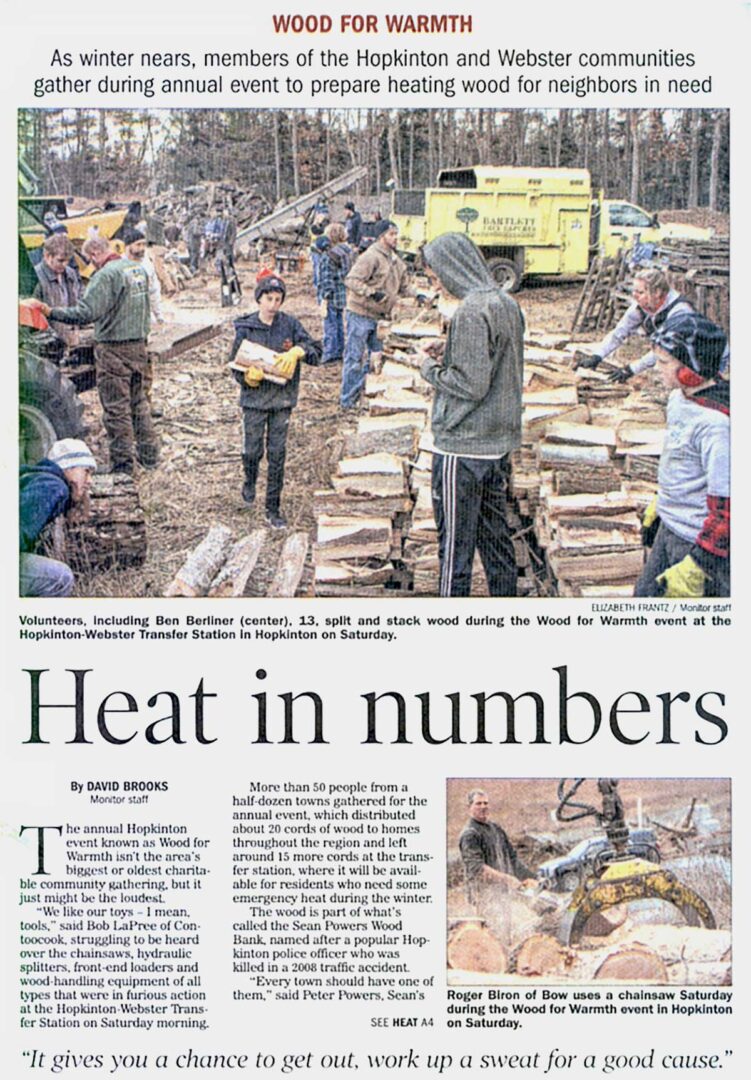 Wood for Warmth focuses on helping people with emergency firewood needs throughout the long, cold New Hampshire winters. This effort is only possible because of the hard work of neighbors helping neighbors in the villages of Contoocook and Hopkinton.We would truly love to help any town, anywhere, establish a wood bank or simple emergency wood pile to help residents and families get some measure of warmth, even temporarily, throughout the most life-threatening and brutal weather (see newspaper articles that follow).
Establishment of the Sean Powers Wood Bank
In 2002, the Contoocook Carry Triathlon (www.contoocookcarry.org/aboutus.htm) was organized in memory of two young Hopkinton boys who died tragically during a winter accident.
The proceeds of the race were eventually designated to support the purchase of home heating fuels (fuel oil, kerosene, propane, and wood) to supplement the Federal Fuel Oil Assistance Program.
Somewhat later, the Contoocook Carry Fund was established to give residents of our town and other towns an opportunity to support this effort, even if they were unable to run, paddle, or bike in the race.
The Fund makes an annual request to citizens of the Town of Hopkinton to make tax-deductible donations to supplement the proceeds raised by the Triathlon.
At the same time, we were witnessing a general panic among many people who were watching the rapidly increasing price of all fuel oils, as well as the price of a cord of firewood. Many had no idea how they would pay to heat their homes during the upcoming winter. A cord of firewood, at less than ½ the cost of a tank of oil, became the only option for many households.
It seemed imperative to us that at least two things should happen: (1) we establish a wood bank, and (2) somehow we needed to ask people to return to an older time in NH when neighbors routinely checked on neighbors and gave a hand when needed.
As a result, supported by the Town's Selectman, the Hopkinton Wood Bank opened in 2008 at the Hopkinton-Webster Transfer Station to make this wood available to Hopkinton residents.
In the following year, it was named the Sean Powers Wood Bank after a young, beloved Hopkinton police officer tragically killed in a traffic accident. During the spring, summer, and fall of each year, we hope for donations of hardwood from our good townspeople to prepare for our November volunteer day.
These three seasons of collection and donation are followed by a volunteer day at the wood bank on the 1st Saturday after Veterans Day. Men, women, children, and families (including dogs) came out with their gloves and dressed for the work. Some bring chainsaws and wood splitters, and other equipment. Others bring their trucks for deliveries.
Beginning about 9 am until the work is done (rain or shine), wood is then cut to length and split for use in wood stoves. Generally, about 20-25 cords of firewood are prepared. About one-half to two-thirds of the cords prepared are delivered the same day to homes. The rest of the cords are stacked at the transfer station.
Residents can get vouchers from the town's Human Services Director to remove up to a cord of wood at a time from the wood bank during the heating season. It is our intent that every penny of the Contoocook Carry Fund will be used and every stick of wood be taken out of the wood bank because it is the pride and goodwill of this community that will bring us back out to start the process all over again next year.
The Congoran Family
Media Stories
Watch the NBC Nightly News segment about us!
Articles (click on the link below)
Concord Monitor - Banding Together
Concord Monitor - Opinions
The Villager
Concord Monitor - credit to the Associated Press